You

CAN

draw and paint
with Angela Birchall
Incorporating
Art by Angela Birchall
and
The Art of Stress-busting
Email:
youcandrawandpaint@gmail.com
Discover how art can change your life
Students' show is great success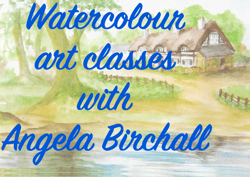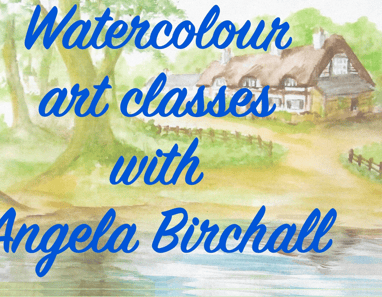 Ten of my wonderful students have just completed the first public exhibition of their artworks and for half of them they had the added delight of selling some of their works.
There were no fewer than 72 works of art on display ranging from landscapes from around the world to fruit, flowers, lion, dogs, horses, cat, swans, a lobster, an owl and even frolicking whales!
The whole collection showcased both their talents and the flexibility and format of the tutored group to which they belong. In that group, they each work on whatever project they choose in whatever medium they want to use and I circulate offering advice, guidance, encouragement and demonstrations as needed.
Come and have a look around then get in touch if you want to buy one of the works on show (if it hasn't already been sold), commission a piece from one of the artists, or to enquire about joining the tutored group . . .
Private art coaching either face-to-face or online
If you want some private art coaching rather than working in a group so that you can focus on specific areas of development and interest, then we can arrange either regular or one-off sessions at mutually convenient times. These can either be face-to-face (if you live locally) or via one of the online chat forums.
To chat about your requirements for the lessons, just get in touch via the message block at the bottom of the page.
I am still buzzing over yesterday's lesson! And my portrait! I still can't believe what I produced, I feel like yesterday's lesson was the most exciting lesson I've ever taken. And the way you explain the concept of the right/left brain seems perfectly logical to me, and very exciting just thinking of the possibilities ahead! I'm so glad I signed up, thank you so much, I feel like you have given me a special gift.
Jayne
I can honestly say, as one of Angela's students, these classes are amazing! Such a relaxed atmosphere, lots of encouragement & constructive criticism.
Delia
Hi I'm Bernie,
I've been coming to Angela's Friday class for just a few weeks. My dear friend Delia suggested I join as she was enjoying it so much and thought I might too. I was sceptical but she was absolutely right.
I hadn't used a paint brush since I was at school in 1973 and wasn't much good then but really enjoyed it (I opted for Geography because I disliked the Art teacher and fancied the Geography teacher).
What a delight, a joy and surprise these classes have been. I have learned a wondrous amount in a short time about colour, perspective, landscapes, trees, skies, clouds. When walking in the country with my dog Paddy I see and appreciate things I've never noticed before its actually enhanced my wellbeing and enjoyment of life. It's amazing for mindfulness, which is what I teach at the moment.
Each lesson with Angela I learn new skills and tricks with paint and while Im not very good it honestly doesn't matter cause I'm engrossed in it and the two hours feels like 10 minutes. It's magic that I come out with a recognisable painting but more so, that I've taken this time out for myself and that time has flown.
Angela is a great, gentle teacher and so supportive she leads you step by step with a grid map and gives you confidence with your every effort. Of course I can't believe how fabulously she paints. Yes it's years of experience but her efforts to help you be creative are also extremely generous.
Do not hesitate to join this class; you'll be made most welcome by fellow seekers of creativity and you'll go home with a decent painting for your efforts. It's great to see fellow students developing their skills and the differences in styles; some match personalities like my water colours are too dramatic and strong. Yes I'm afraid I'm no pastel kinda woman! I truly had no idea I could do this and if I can anyone can.
Isn't doing something creative in life firing on all cylinders? We look after our physical, mental and emotional health why not explore your inner artist!!!
Thank you for the art classes, it really has rekindled a passion!
Susan
I have a watercolour class which is a
taught class where students are following
me step by step from preparatory drawing
to finished painting. This makes them
ideal for beginners, intermediate or
those returning to painting after a break.
The class is held in the Guide HQ in Green
Lane, Ormskirk on Friday mornings.
The next block starts on September 15th 2023.
The tutored classes are held in Scarisbrick Village Hall, Smithy Lane, on Wednesdays from 1-3pm. The next block starts on September 13th 2023.
Both the tutored and taught classes are fun and social - my only rule is that there are no mistakes, only experiments. However, they are not social "daub and chat" gatherings, they are explicitly taught or tutored lessons so that you learn the different techniques whether it is in the initial drawing, such as using perspective, or in the mixing and application of paint.
They run in a continuous cycle of 4-week blocks so that the taught class can take 2-weeks per painting and explore different techniques, styles or subject content and achieve more complex paintings. All materials are provided and the cost is £40 for the 4-lesson block, payable in advance.
Places are limited and will be allocated on a "first paid, first served" basis, so if you want to join or get more details, please message me using the box below or email youcandrawandpaint@gmail.com as soon as possible.
On behalf of Flo, thank you so much for reigniting her love of art and for giving her the confidence to create her own pictures x Flo has learnt so much from you Angela
Emma
Come along and develop your creativity
Get inspired to work in situ, en plein air
Lessons will give you the skills and confidence to enable you to go out sketching on location . . . but it's twice as much fun if you go with friends
Selection of paintings from watercolour classes