You

CAN

draw and paint
with Angela Birchall
Incorporating
Art by Angela Birchall
and
The Art of Stress-busting
Email:
youcandrawandpaint@gmail.com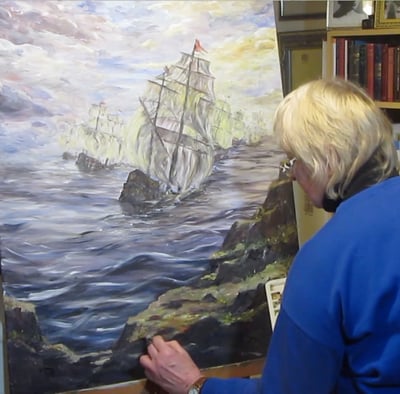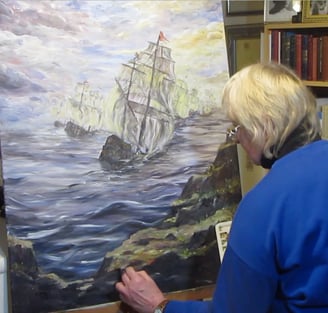 I'm both an artist and an art educator so I get the best of both worlds!
I get to draw and paint a myriad of subjects in any media that either I or my commissioner desire. Having enjoyed creating those works of art I know that when they are sold they will give years of pleasure to their new owners.
Then I also get to see all my students blossom and progress as they learn how to create their own unique works of art at the same time as they use their art to de-stress and forget about the problems of the world around them.
I was so lucky that as a teenager I got a place at art school and was taught by the most inspirational artist and teacher one could ever wish for: 46 years later, I'm still drawing and painting, and still loving it. I'm also still using his teaching methods to help my students to realise that they, too, really CAN draw and paint.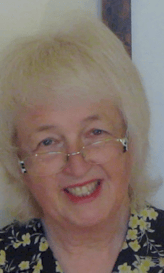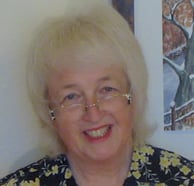 Discovering why those methods worked became my first degree dissertation topic and then a life-long interest.
In a nutshell, it is switching you from the logical, time-centred, stereotypical thinking processes of the left hemisphere of the brain across to the creative, individual, timelessness of the right hemisphere's thinking processes. In this mode, time can fly or stand still, it is as relaxing as it is stimulating, and you become so much more aware of the colours, shapes and patterns of the world around you.
I love operating in right hemisphere mode, and I love seeing students switch from left to right – you can actually see it in the marks they are making in their art work. It is fascinating!!
Prompted by the Covid closures and wanting to reach a wider audience than just face-to-face classes could allow I put my teaching techniques into a series of online lessons: "The Art of Stress-busting".
This teaches you how to switch from the stress-filled left hemisphere onto the relaxing, rejuvenating right hemisphere of the brain.
Happily, I am now back to teaching face-to-face classes and have weekly watercolour painting classes and drawing classes in West Lancashire in north west England.
You can also book private, one-to-one or small group, tutorial sessions with me, or I can design bespoke corporate events using art to de-stress your workforce.
So, welcome to my world! Have a look around and discover how art can change your life in so many wonderful ways.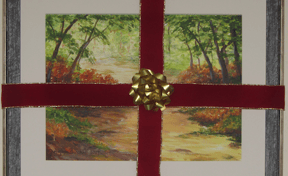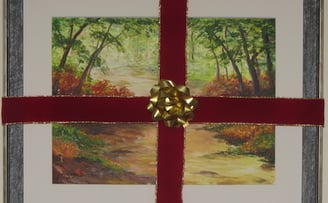 Unique gifts for
special people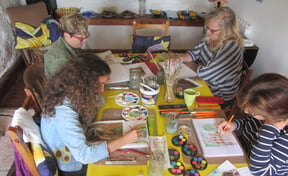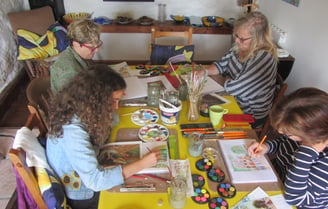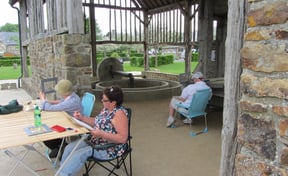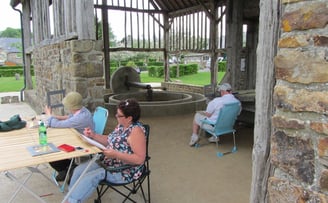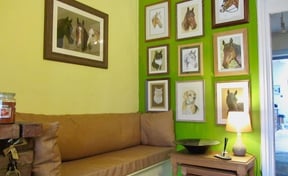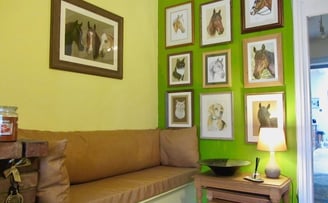 Inspirational surroundings
Discover how art CAN relieve stress in the workplace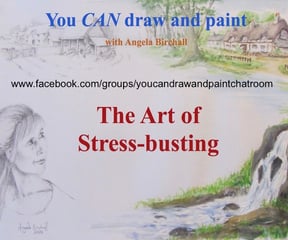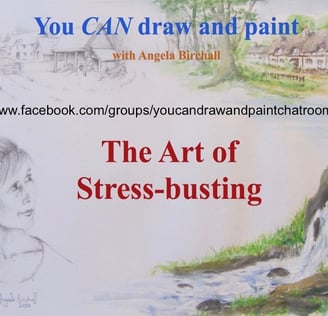 Fun exercises enable participants to leave behind the stresses of thinking and working in the left hemisphere of the brain and access the creative, blue-sky, big-picture thinking processes of the right hemisphere.
Working in this changed perspective offers new and creative ways to look for solutions to problems, patterns or issues in working situations.
Contact me via the message block below to find out more about how 'The Art of Stress-busting' could help your workforce.
Art can help busy, stressed workforces come together to look for new ways to solve problems as well as find relaxation and build teamwork!
Ask any artist and they will tell you that art is one of the finest stress-busters because when we draw or paint we can switch off the stresses of everyday life and switch over to a relaxing, rejuvenating, creative reverie. 'The Art of Stress-busting' takes that switch over into a workplace setting designing bespoke corporate events to inspire creativity, problem-solving and teamwork.


Black artworks for Black Friday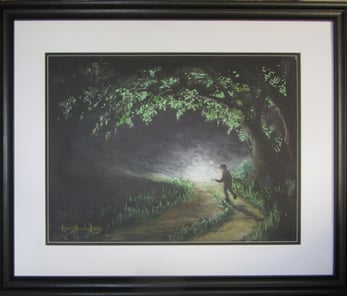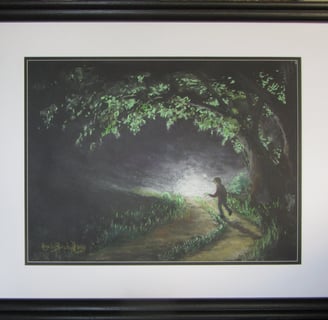 With Black Friday on everyone's mind it's the perfect opportunity to showcase examples of my artwork where black is a dominant colour – or lack of colour!
My "Black panther emerging into the moonlight" is the obvious starting point. It is drawn in soft pastel on black paper and I love the way our brain will fill in the "missing" parts where the black cat merges into the blackness of the night. Like many of these 'black' pictures, it was created as part of a collection of work with the theme "Chiaroscuro," meaning light and dark, which was a technique mastered by the genius Leonardo da Vinci.
"Resting" (below right) is a particular favourite of mine. It's part of the series of soft pastel drawings on black paper that play with light and dark to create magical, mystical effects. It's actually an amalgamation of images from Highgate Cemetery and is the first time I've used a graveyard as the subject but when I saw the light playing off the folds of his garment, I couldn't resist portraying it.
"Northern Lights Shining in Another Place" (below) is another pastel drawing on black paper and is the third of a trio featuring the Northern and Southern Lights. Being based in Southport on the north west coast, it was fascinating this year that the northern lights were seen this far down the UK coastline so I had to feature the lights shining on the famous Antony Gormley statues in Another Place just a few miles down the road..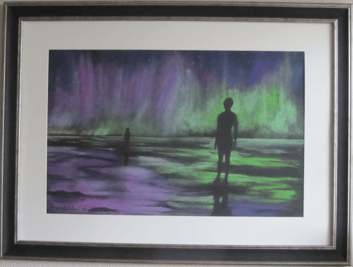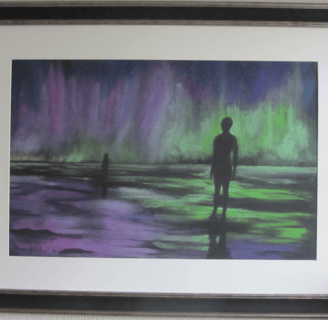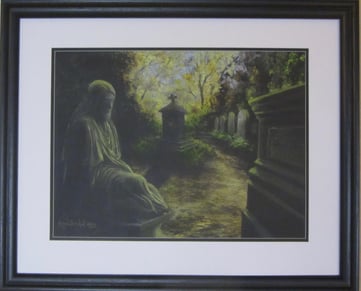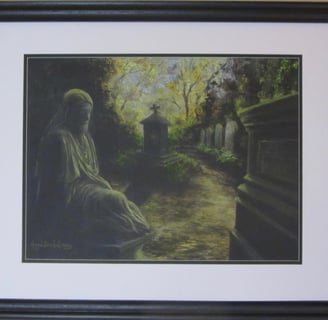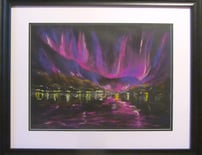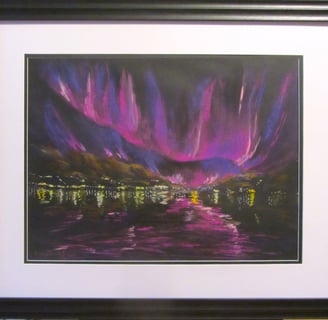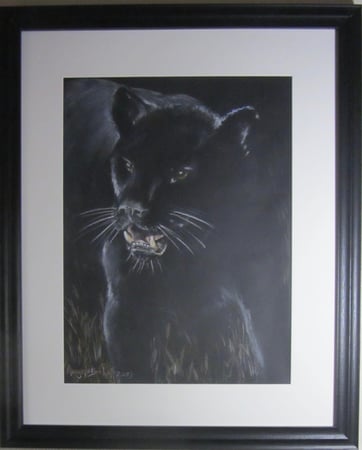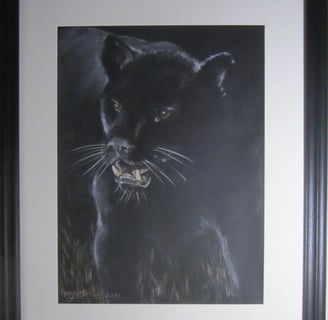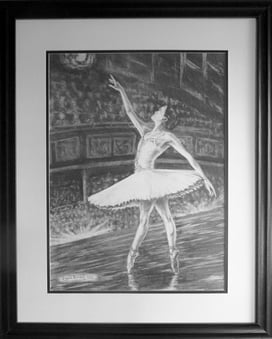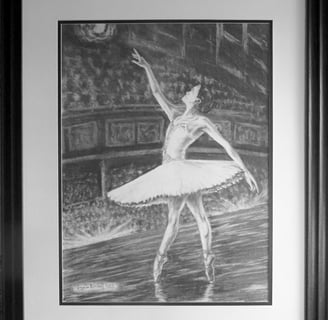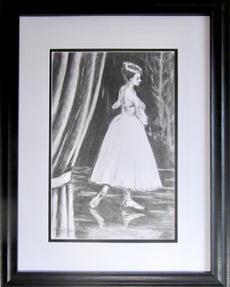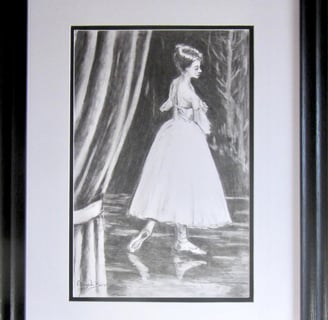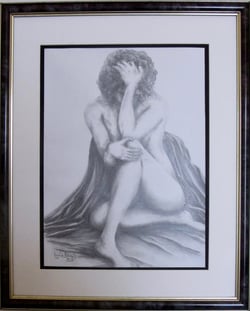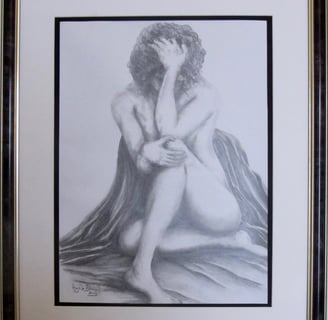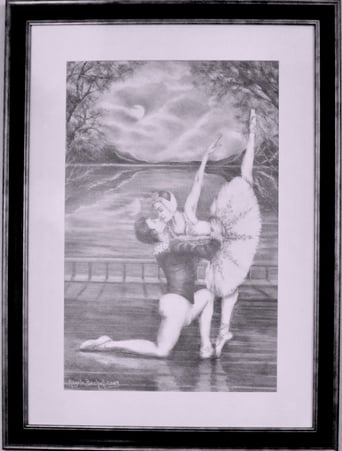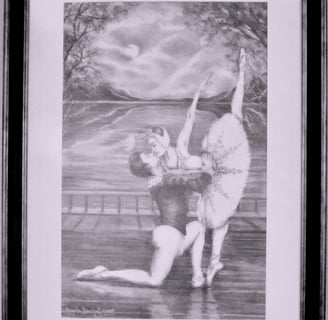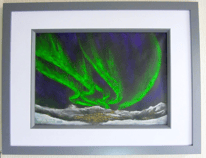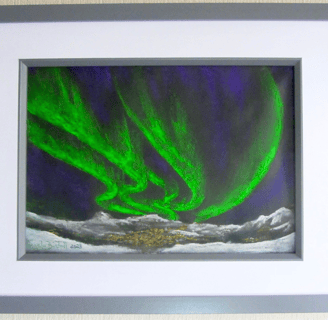 "Northern Lights in Scotland" and "Southern Lights in Australia" (below left and right) are the remaining two from the trio showcasing the incredible natural light display.
"Into the Light" (left) is a pastel drawing that is currently on display in the Southport Palette Club's annual Invitation exhibition at The Atkinson in Southport. Once again, working in soft pastel on black paper enables me to explore the dramatic, yet ethereal, effects of a strong light source in a dark, night-time location.
Swapping from drawing in pastel to drawing in pencil, I'm including a trio focusing on the ballet. They were also created as part of my "Chiaroscuro" collection and make ideal gifts for aspiring ballet dancers or lovers of this graceful art form:
"Tender moment in Swan Lake" (left) captures the strength, poise and elegance of both performers with the dramatic stage backdrop from what is probably the most famous of all ballets.
"Strength and Grace" (below right) is the 2nd in a series of pencil drawings done this year of ballet dancers and shows the ballerina performing on stage to her appreciative audience.
"Grace and Charm" (below left) sums up this poignant pencil drawing of a ballerina on stage as she is about to take her bow after her performance to the delighted audience. You are viewing it from the wings of the stage so you feel much more involved in the event.
Staying with pencil drawings but moving away from the ballet is "Lost in Thought". (left) It shows a nude woman sat on a draped cover on the floor. I particularly liked this pose with its continuous play with triangular shapes coming from the angles of her arms and legs as they fold and intertwine. This is echoed by the dark triangular shape of the drapes upon which she is sitting which frames her light body while her dark curly hair actually forms the top point to that dark triangle.
All the pictures are mounted, framed and ready to hang and come with their certificate of authenticity. For further details of sizes and prices, please message me.