You

CAN

draw and paint
with Angela Birchall
Incorporating
Art by Angela Birchall
and
The Art of Stress-busting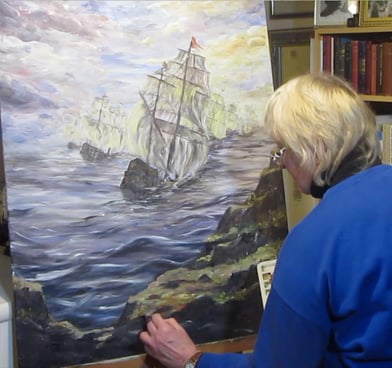 I'm both an artist and an art educator so I get the best of both worlds!
I get to draw and paint a myriad of subjects in any media that either I or my commissioner desire. Having enjoyed creating those works of art I know that when they are sold they will give years of pleasure to their new owners.
Then I also get to see all my students blossom and progress as they learn how to create their own unique works of art at the same time as they use their art to de-stress and forget about the problems of the world around them.
I was so lucky that as a teenager I got a place at art school and was taught by the most inspirational artist and teacher one could ever wish for: 46 years later, I'm still drawing and painting, and still loving it. I'm also still using his teaching methods to help my students to realise that they, too, really CAN draw and paint.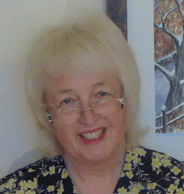 Discovering why those methods worked became my first degree dissertation topic and then a life-long interest.
In a nutshell, it is switching you from the logical, time-centred, stereotypical thinking processes of the left hemisphere of the brain across to the creative, individual, timelessness of the right hemisphere's thinking processes. In this mode, time can fly or stand still, it is as relaxing as it is stimulating, and you become so much more aware of the colours, shapes and patterns of the world around you.
I love operating in right hemisphere mode, and I love seeing students switch from left to right – you can actually see it in the marks they are making in their art work. It is fascinating!!
Prompted by the Covid closures and wanting to reach a wider audience than just face-to-face classes could allow I put my teaching techniques into a series of online programmes called "You CAN draw and paint".
I have a flagship programme "Landscape painting in acrylics" which is an incredibly detailed, highly structured programme that will take you from beginner to competent artist able to handle any form of landscape and work out in situ "en plein air".
I have also created "The Art of Stress-busting" which teaches you how to switch from the stress-filled left hemisphere onto the relaxing, rejuvenating right hemisphere of the brain.
Happily, I am now back to teaching face-to-face classes and have weekly watercolour painting classes and drawing classes in West Lancashire in north west England.
You can also book private, one-to-one or small group, tutorial sessions with me, or I can design bespoke corporate events using art to de-stress your workforce.
So, welcome to my world! Have a look around and discover how art can change your life in so many wonderful ways.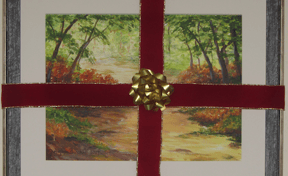 Unique gifts for
special people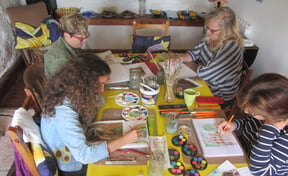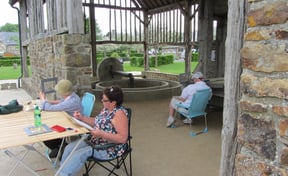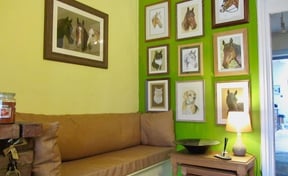 Inspirational surroundings
If you can't get to Southport in time, don't worry, you can come and have a look around the gallery where I have my solo art exhibition and learn the story behind the displays..
It is set out in 5 broad categories, but within that there is a story as to why certain paintings and drawings were chosen.
The 5 categories show you the breadth of work on display - which is why I have called it "I'm Not a One-trick Pony" and I'll outline those 5 categories below.
The video, however, tells you the story behind the selection and placement of works within some of those categories.
1. I start with landscapes which includes seascapes, and whether it is rolling oceans, languid lakes or racing rivers, you will see how often water features in my landscapes.
2. Next we have birds, flowers and still life. This links to the feature painting in the window display of the swan family. I love the myriad of bright colours that painting flowers calls for and a painting of flowers becomes an everlasting bouquet.
3. Night-time and sunset scenes allow me to explore a more dramatic palette of colours; so, too, does using pastels on black paper and while some of them are also night scenes, the trio depicting racing white water utilises this dark background to highlight the surging patterns created by the water's rapid movement.
Unleash your creativity as you learn to draw and paint
Join one of my face-to-face watercolour or acrylic painting classes if you are in the Sefton and West Lancashire region.
Weekly classes in landscape painting in acrylics are held in Scarisbrick, while watercolour painting classes are held in Ormskirk.
Or get in touch to book one-to-one tutorials (online or face-to-face) or coaching sessions with me.
You CAN draw and paint's flagship programme is 'Painting landscapes in acrylics'.
It is an incredibly detailed, carefully structured online programme to take you from beginner or intermediate to a confident and highly competent artist able to depict any landscape and to work on your own painting in situ 'en plein air'.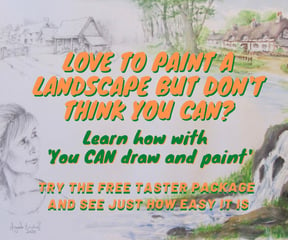 Discover you CAN achieve positive mental health with
The Art of Stress-busting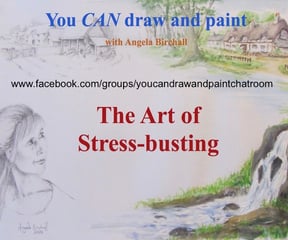 Try the FREE taster package
Art is one of the finest stress-busters because when we draw or paint we can switch off the stresses of everyday life and switch over to a relaxing, rejuvenating, creative reverie.
'The Art of Stress-busting' is designed to help you make that switch any time you need some creative relaxation. It is a fabulous 'pick-and-mix' selection of online sessions offered on a small monthly subscription basis so you can choose from watercolours, acrylics, soft pastel or oil pastel, however and whenever the inspiration takes you.
There is also a bespoke corporate version delivered on company premises to inspire creativity, teamwork and new ways to look for solutions.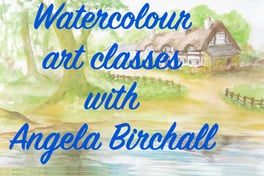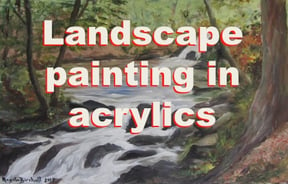 Come and have a look round the exhibition
4. The long, thin panorama canvases is a shape I have worked with a lot recently because it asks interesting questions of me in terms of composition. I have also played around with where and how much of the canvas can you leave blank but know that the brain will fill in the empty segments.
5. My final section is portraits, both pet and people, and instead of being works for sale, they are examples of the sort of work that you can commission me to do for you. The display includes horses, dogs, cats and people – one of whom you will recognise as celebrating a very special milestone this year! Most of these commissioned works are now in private homes so I can't display them, so I will include a file of photographs showing the finished portrait and the photographs of the subjects that I worked from.
Horses, dogs, cats, people, birds, flowers, day-time, night-time, sunset, oceans, lakes, rivers, mountains, valleys and vistas, and city scenes in oils, acrylics, watercolours, pencil and pastel . . . no, I'm definitely not a one-trick pony.
The exhibition is being staged at the ArtHouse gallery in Eastbank Street, Southport, from Tuesday August 2nd to Saturday August 13th 2022. Just look for the big canvas of the swan family in the front window of the gallery.